The tractors and equipment are getting tune-ups and washed.
The plans for the 2017 season is having a twice look over and preparations being made.
The hard working crew is getting ready to pack their bags for their long journey home.
Rob has been updating programs and advancing our inventory and accounting software in order to advance Sedum Master to stay current with the increase in sales.
I have been organizing the office and files, re-designing our sedum plant catalog for the 2017 season and getting Christmas cards finalized (yes, 'tis the season, I love it!).
As we get to the winter season, things start to slow down a bit around here at Sedum Master. As the sedums start to go dormant some of us tend to hibernate through the winter (I'll let you guess who, wink...wink…wink!) Our doors are still open and the phones are answered for those sedum and green roof questions or estimates that need to be tended to.
But as we look forward to the needed rest the winter brings, let me update you on what has happened in the last couple of months here.
We have come to the realization very quickly that after building our new 2.5 acre state-of-the-art greenhouse facility, it just wasn't enough. Construction has begun again and another 11 bays will be added and completed (hopefully) early in the new year. Sedum has become a hot commodity and not just in green roofing!
Greg was off to Niagara Falls on October 5, 2016 to the Canadian Greenhouse Conference to except the "Top 10 Under 40" award for 2016. Greg noted that it was a fun night meeting with an array of young winners in the same industry and to hear of their obstacles and accomplishments were of great comfort in knowing that we all have "been there" at some time or another. Thanks again to the Greenhouse Canada for the award and to the sponsor Paul Boers Manufacturing.
http://www.greenhousecanada.com/business/grower-profiles/a-passion-for-plants-31480
Rob Lebrow and Greg Magda both attended the Cities Alive Show in Washington, DC at the beginning of November. They met up with a lot of people in the green roof industry they have known for years and got to do some catching up. They also met some new faces in the industry and look forward to working with them in the future.
Have an eye out in the new year in January for Rob Lebrow at the Congress Show in Toronto and Greg Magda at the Mants show in Baltimore, MD, USA.
On November 2, 2016 Ed and Marg Magda along with myself and my husband Jason attended the Woodstock Business Awards of Excellence at the Woodstock Agricultural Hall. It was beautifully decorated as some would say "Fantabulously." I started off my night with a tasteful complimentary apple martini that was poured through a handcrafted ice sculpture by TD Wealth. Let's just say, one was more than enough for this lightweight! The supper was catered by Craigowan and the complimentary bottles of wine were a great asset to the beautiful floral décor on the dinner tables. It was a night of business glamour and entertainment. We sat at a table with great company from Gunn's Hill Cheese (5 brothers cheese is a must on your Christmas list!) along with Sixthirtynine, fine dining. Both businesses won their awards for their category and here we sat, the only ones at the table without an award. Our category came up and the crowd casted their votes and Sedum Master Inc. won the "Energy Conservation & Innovation Award"! We were shocked and up we went on stage to give a speech. Not prepared as I didn't think we would win, I winged my speech and I don't recall much of it as it was all so surreal! So cheers to everyone at table "39" we are all winners! Thank you to the Woodstock Chamber of Commerce for putting on this fabulous night of awards for the business sector, and to all of those who made us feel that we were "good" enough, or great, thank you!
To end my long blog here, sorry if your eyes got tired from reading…
I want to thank all who helped us accomplish so much this year here at Sedum Master!
To our loyal customers, we thank you for trusting us to fill your orders with sedum vegetation. Lots of hard work goes into every sq. ft. and we certainly hope it shows.
To our trucking companies who shipped our orders with great care, ease and professionalism. To those in the office who's patience were tested when some last minute changes were made with orders we thank you!
To those who supply Sedum Master with our products to make our sedum vegetation without you where would we start to build our reputation of some great looking sedum mats!
To those of you we get supplies, marketing promotions, equipment etc. from thank you. Businesses cannot be made without the many "steps" along the road you all have made for us.
On a personal note, thank you to the Magda family, Ed, Marg, Greg, Ray and Melissa for making all of us at Sedum Master feel like family. You make us feel like we belong, we are important and we have a great time doing what we do. A lot of laughs on the way!
To those of you who may not have fallen under any of these categories but have been an asset to our growth, we thank you as well!
And to all of you we wish you a wonderful upcoming holiday season and a happy and healthy 2017!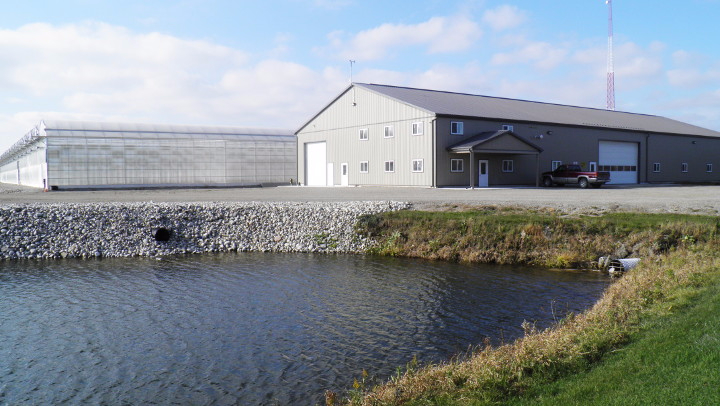 Greenhouse addition.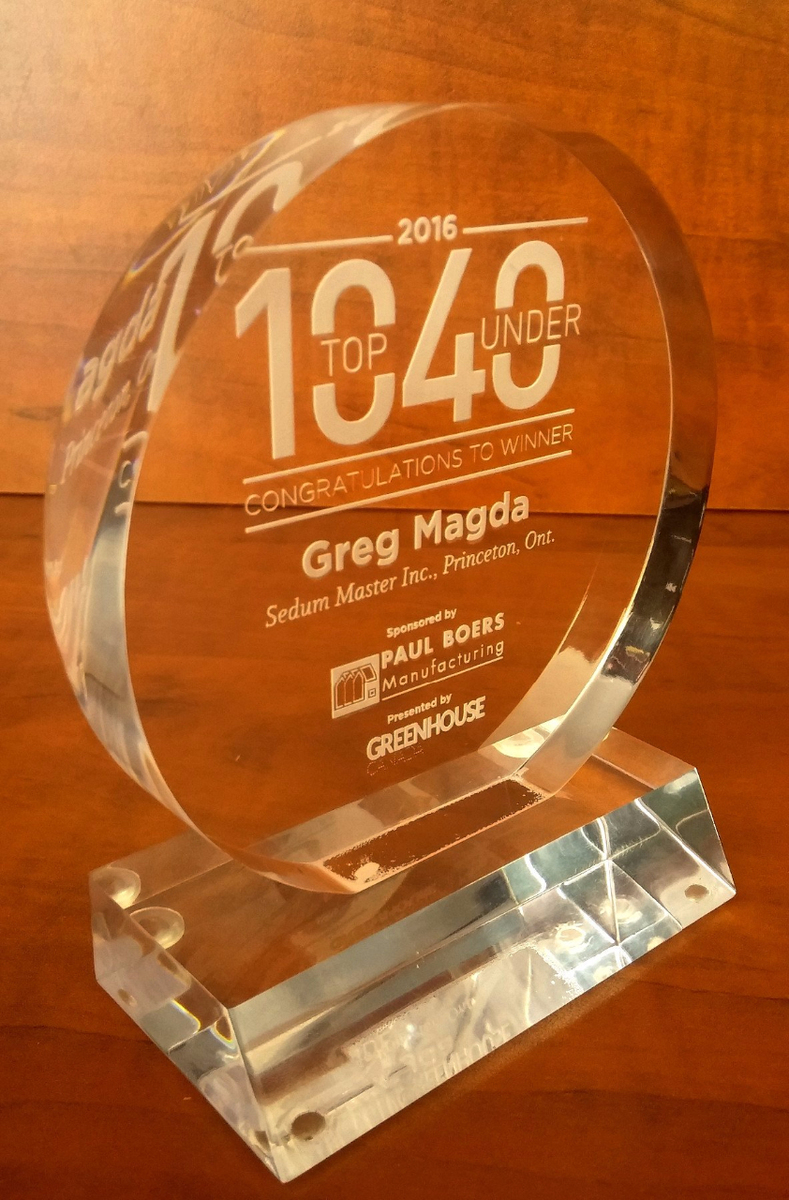 Greenhouse Canada Top 10 under 40 Award winner!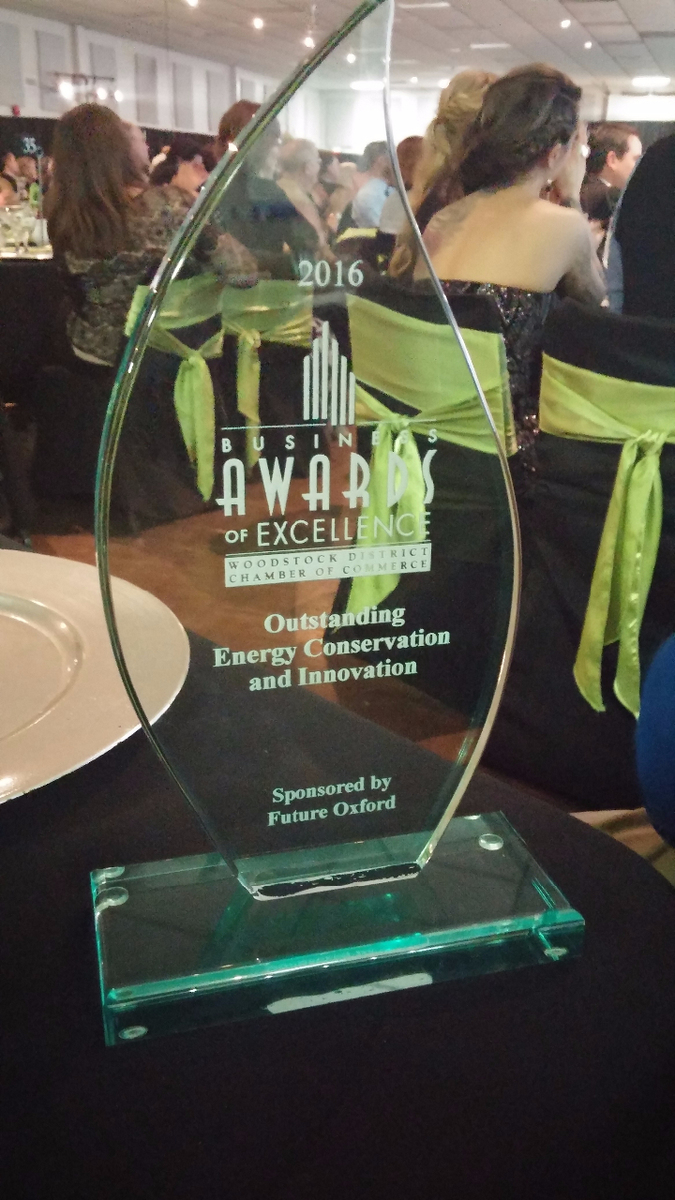 Business Awards of Excellence "Energy Conservation & Innovation Award" Winner!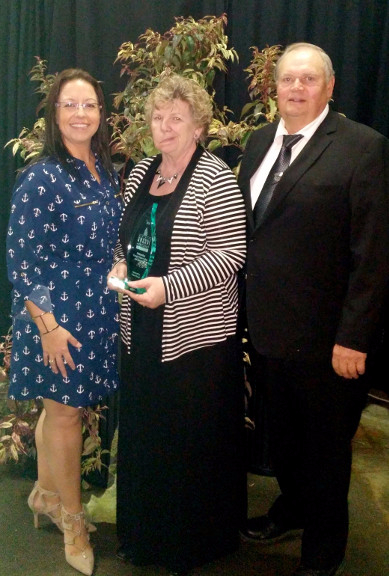 Lori Davey, Marg and Ed Magda accepting the award for Sedum Master Inc.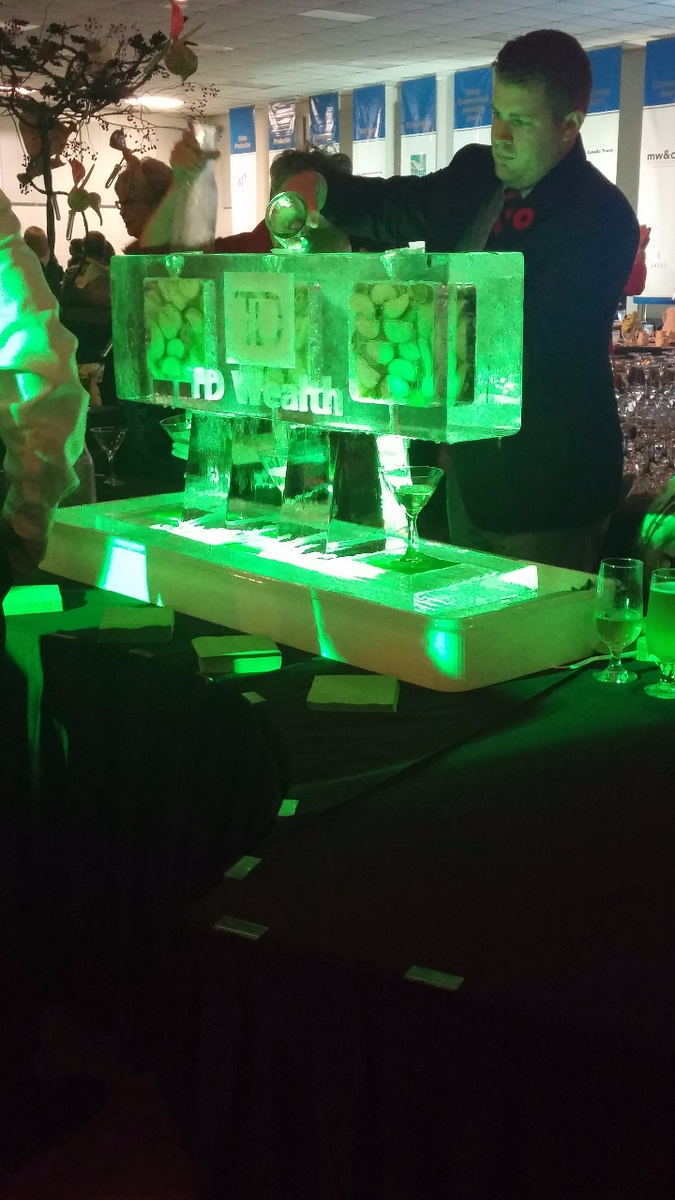 Complimentary apple martini's poured through an ice sculpture that greeted us as we arrived! Delish!